Some items may not be showing up on our new website just yet, but please call our friendly staff at 323-464-9600 to continue ordering any items you may not see here. Thanks for your understanding!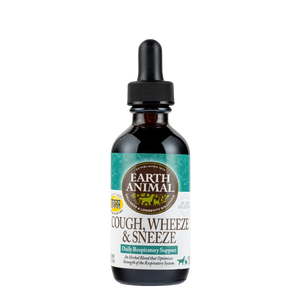 Earth Animal Cough, Wheeze & Sneeze Organic Herbal Remedy
Dr. Bob Goldstein chose the most common health conditions that affect dogs and cats today and then thoughtfully created formulas made up of targeted herbs and flower essences for a true health benefit.
Conditions of the respiratory system of dogs and cats are quite common. Dogs and cats are prone to seasonal allergies, especially during the pollen season. Infections, coughing, wheezing, and sneezing are also common during stressful times, such as cold weather, boarding, and showing. Cough, Wheeze & Sneeze is an organic herbal blend that supports respiratory function and health. And, it helps to support normal circulation.  
Each batch is crafted in the Green Mountains of Vermont.  
For use in dogs and cats only.  
---
We Also Recommend
---