Some items may not be showing up on our new website just yet, but please call our friendly staff at 323-464-9600 to continue ordering any items you may not see here. Thanks for your understanding!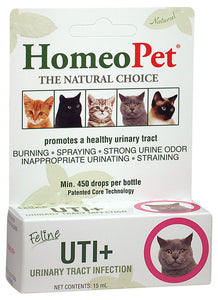 HomeoPet FELINE UTI+
Promotes a healthy upper and lower urinary tract in cats. May aid in the relief of stress-related urination, often indicated by frequent urination often with a strong smell.
Symptoms:
Burning
Spraying
Straining
Strong urine odor
Inappropriate urinating
Darker/lighter than normal urine
Benefits:
Fast-acting liquid
Natural medicine from Nature
No harsh chemicals
No known side effects
May be used for kittens and young animals
May be used for senior pets
Can be safely used long term
Great value with up to 90 doses per bottle (depending on weight)
Easy to dose liquid medicine
---
We Also Recommend
---