Some items may not be showing up on our new website just yet, but please call our friendly staff at 323-464-9600 to continue ordering any items you may not see here. Thanks for your understanding!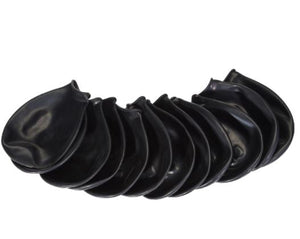 Protex PawZ Black Rubber Dog Boots
PawZ Rubber Dog Boots provide outstanding protection against everything from scorching hot pavement to snow and ice. These durable, flexible booties allow your dog's paws to feel the ground, providing a surefooted sense of security all year round.
Keep paws dirt, mud, filth and urine-free
Prevent lawn and ice melter chemicals from harming sensitive paws
Proven to protect paws from hot asphalt
Terrific traction control – no slipping and sliding on hard floors
Reusable, waterproof, easy to clean
Disposable when worn out or soiled
Fit snugly, yet easy to put on and pull off
Protect wounds, stop licking, promote healing
Made from sustainable rubber tree sap, an all-natural, biodegradable material
---
We Also Recommend
---