Some items may not be showing up on our new website just yet, but please call our friendly staff at 323-464-9600 to continue ordering any items you may not see here. Thanks for your understanding!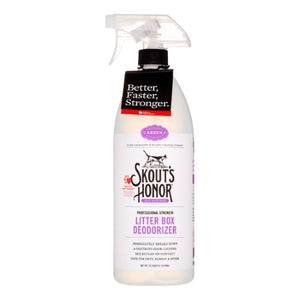 Skout's Honor Litter Box Deodorizer
Cats really know how to stink up a litter box! We've got you covered with our Litter Box Deodorizer spray that eliminates cat urine and feces odor in between litter cleanings. Spray on used litter and into the surrounding air to freshen up your living space and reduce litter box odor.
Ingredients
DEIONIZED WATER, BIODEGRADEABLE MOLECULAR COMPLEX (MINERAL-BASED DEODORIZER), PLANT-BASED FRAGRANCE
Use
Spray directly on used litter and into the surrounding air in between cleanings.
Great For
Use on litter, cat beds and any other area where offensive feline odors exist.
Removes: Used litter box odor.
Safe Surfaces: Can also be used on or around any surface with a stink! Pet beds, trash cans, cars, smelly bathrooms & more!
Not Recommended For: Natural surfaces such as wool, leather and unsealed wood.
Available Size(s): 35oz
---
We Also Recommend
---