Some items may not be showing up on our new website just yet, but please call our friendly staff at 323-464-9600 to continue ordering any items you may not see here. Thanks for your understanding!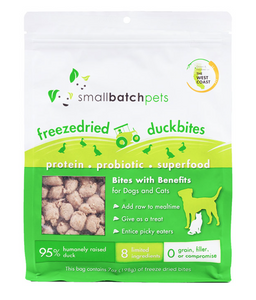 Smallbatch Freeze Dried Duckbites
protein + probiotic + superfood
Single-source protein treats for dogs and cats featuring 95% meat, organ and bone, fermented purple cabbage probiotic and a different superfood with each flavor.  Great for adding to mealtime or as treats.For nursing or pregnant dogs and puppies, quantities per day can be doubled.  Please note that you should always consult your veterinarian especially when it comes to mommas-to-be or nursing dogs. These are only guidelines and may need to be adjusted depending on your individual dog's needs.
ingredients: duck including bone, duck hearts, duck gizzards, duck livers, organic winter squash, organic spinach, organic MCT oil, salmon oil, organic mushroom powder (contains shiitake, maitake, oyster, and reishi), organic seeds, fermented organic purple cabbage, fermented organic sunchokes

Moisture (max): 3.9%
Crude Protein (min): 46.6%
Crude Fat (min): 38.6%
Crude Fiber (max): 2.4%
ME = 4900 kcal/kg = 490 kcal/100g = 139 kcal/oz
---
We Also Recommend
---