Some items may not be showing up on our new website just yet, but please call our friendly staff at 323-464-9600 to continue ordering any items you may not see here. Thanks for your understanding!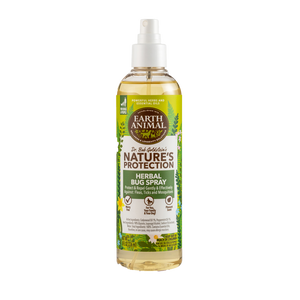 Earth Animal Nature's Protection™ Flea & Tick Herbal Bug Spray
Mother Nature doesn't use synthetic chemicals.
Neither do we. Our philosophy is simple and 40 years strong. We believe that dogs and cats should never be the carriers of synthetic chemical insecticides or pesticides. Ever.
As seasons change, so does the need for flea & tick protection. Using our team of Nature's Protection™ products together helps create the ultimate defense for your dogs and cats with 2 easy steps to build immunity and combat fleas and ticks, naturally.
Step 1:

 

year-round essential protection from the inside out.
Step 2:

 

additional topical protection from the top to bottom. 
Step 2: From top to bottom:
Formulated by Dr. Bob Goldstein, our Nature's Protection™ Flea & Tick Herbal Bug Spray is infused with a natural blend of aromatic herbs and essential oils that have a fresh, minty fragrance. The preventative power and minty scent of these gentle oils are non-offensive to people and dogs, but loathed by fleas, ticks, and mosquitoes. Our spray is great for hikes, long walks, romps on the beach, boating, or simply lazy days in the yard. We suggest spraying the paws, underbelly, and gently mist the back and neck, daily. You should reapply if your dog swims. Shake well before use to activate the oils. The spray is safe for people too, especially kids, if used as directed. 
Made by our friends in France. 
The bug spray is not intended for cats, but can be used on cats. Cats do not like to be sprayed; they do not like the "pshit" noise that the spray makes, and they do not like their fur to be covered by the spray. The recommendation we make saying "not intended for cats" is not linked to the formulation. If a cat accepts to be sprayed, then there is no problem using the spray.
---
We Also Recommend
---