Some items may not be showing up on our new website just yet, but please call our friendly staff at 323-464-9600 to continue ordering any items you may not see here. Thanks for your understanding!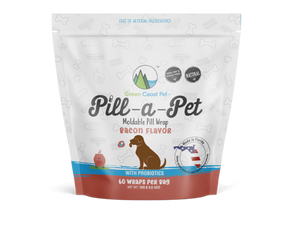 Green Coast Pet Pill a Pet
Pill-a-Pet is the perfect pill administration solution for your dog! No more do you need to watch your dog chew around the pill and spit it out. With Pill-a-Pet, you just tear off the amount you need to coat any size pill and this bacon flavored wrap will stick to the pill snugly and taste great to your pup.
This Pill Paste is formulated with probiotics. Most of the pills (particularly antibiotics, pain medications etc) may affect intestinal microbial population. A dose of good bacteria will help pets to overcome adverse effect of pills on the stomach. This pill paste is made with stable and well researched probiotic for gastrointestinal and immunological support. Each serving (2 grams) is enriched with Bacillus coagulans.
This tasty product is free of corn, wheat, soy and byproducts.
60 wraps per bag
---
We Also Recommend
---